Preserving the Postmemory of the Genocide: The Armenian Diaspora's Institutions in Plovdiv
Abstract
This paper intends to shed light on the memory of the Armenian Genocide among the Armenian diaspora in Plovdiv, Bulgaria. I will focus on the patterns of promoting remembrance found in the local Armenian press and literature, on initiatives of the Armenian General Benevolent Union/Parekordzagan (AGBU) to celebrate the ninetieth and hundredth anniversaries of the Genocide, and on analyzing the cityscape of Plovdiv in terms of the monuments, the museum, and the cemetery of its Armenian community. To that end, I will employ information collected during interviews, articles from Plovdiv's main Armenian newspaper, and data I gathered while visiting the community's public spaces. I will demonstrate the importance of collective memory and remembrance of the Genocide to the preservation of the internal cohesion of the Armenian community of Plovdiv and its ethnic identity. Taking a socio-anthropological approach, I will argue that the maintenance and promotion of a specific "postmemory" of the Genocide depends heavily on the activities and initiatives of the main diaspora organization, the AGBU, on its selection of specific symbols, and on the emotional content of its communications.

Keywords: Armenian Genocide; Bulgaria; collective memory; commemorative practices; diaspora
DOI: 10.14712/23363231.2019.13
© 2019 The Authors. This is an open-access article distributed under the terms of the Creative Commons Attribution-NonCommercial-NoDerivatives License, which permits use, distribution and reproduction in any medium, provided the original author and source are credited, the use is non-commercial and no modifications or adaptations are made.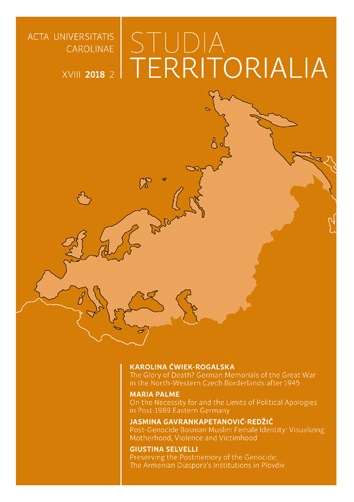 Downloads