Post-Genocide Bosnian Muslim Female Identity: Visualizing Motherhood, Violence and Victimhood
Abstract
As Yugoslavia fell apart in the 1990s, the Serbs used violence strategically, to achieve permanent divisions between ethnic categories and to thwart future attempts to rebuild trust and normalize interethnic relations. The goal of the violence was to intensify national and religious differences within socialist Yugoslavia's highly multicultural society. The violence of the war, and the sexual violence in particular, influenced the identity of Bosnian Muslims. It heightened their sense of endangerment and consequently, their feeling of belonging to a persecuted group. This paper analyzes the visual representations of motherhood, violence and victimhood in four films directed by Jasmila Žbanić. It finds inspiration in Žarana Papić's critical approach to patriarchy and nationalism and Inger Skjelsbæk's field work among the survivors of sexual violence in Bosnia and Herzegovina. The paper's main goals are to trace the link between patriarchy, nationalism and the memory of gender-directed violence, and to highlight the transformation of Bosnian Muslim identity within the context of history.
DOI: 10.14712/23363231.2019.12
© 2019 The Authors. This is an open-access article distributed under the terms of the Creative Commons Attribution-NonCommercial-NoDerivatives License, which permits use, distribution and reproduction in any medium, provided the original author and source are credited, the use is non-commercial and no modifications or adaptations are made.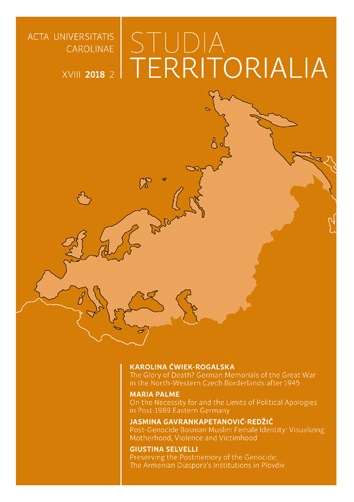 Downloads